SCOTUS Prop 12 decision possible today
The Supreme Court will announce as soon as today whether it will rule on the legality of California's Proposition 12, which has nationwide implications for sectors of the livestock industry. Prop 12 requires meat sold in California to be produced according to the state's animal housing standards.
The North American Meat Institute is asking the high court to review a 9th Circuit ruling that upheld a lower court's denial of NAMI's request for an injunction.
The court considered the petition in a conference Thursday, which usually means a Monday decision will follow. But the court also could extend the process by seeking the views of the solicitor general, the Justice Department's lead litigator. The government backed NAMI in the appeals court but has not weighed in at the Supreme Court.
Why it matters: At issue for the meat industry is whether it's constitutional for California to "extend its police power beyond its territorial borders" by regulating animal care for pork and veal that's produced out of state.
For more on this week's pre-Independence Day agenda, read our Washington Week Ahead.
Big increases eyed in natural resource spending
House Democrats are looking to put more money into EPA and the Interior Department for the fiscal year that starts Oct. 1.
A draft fiscal 2022 spending bill released Sunday would expand federal environmental enforcement while also funding a new Civilian Climate Corps and boosting land and water conservation programs.
The bill would fund EPA at $11.3 billion, $2.1 billion more than the agency is getting in FY21.
The Interior Department would get a 17% increase in funding to $15.6 billion, which would provide for significant increases for the Bureau of Land Management and Fish and Wildlife Service.
A House Appropriations subcommittee will vote on the bill today.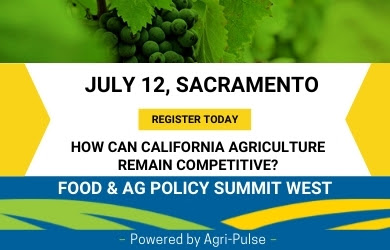 Ethanol industry finds silver lining in ruling
Friday's 6-3 Supreme Court ruling in favor of small refineries should clear the way for EPA to issue the 2021-2022 renewable volume obligations, or RVOs.
The ruling assures that refiners can get an exemption from biofuel usage mandates even if they don't have one already.
But biofuel industry advocates argue that other aspects of the original 10th Circuit ruling are still in play: Future waivers can't consider either the cost of Renewable Identification Numbers or factors outside the jurisdiction of the Renewable Fuel Standard like geographic issues. 
"We've already been talking to (the Environmental Protection Agency) about the fact that there were three pillars to that 10th Circuit decision, and that only one of those three pillars was in question," American Coalition for Ethanol CEO Brian Jennings told Agri-Pulse. "Thankfully, EPA was well aware of that fact."
Keep in mind: There are 70 applications for exemptions pending at EPA, according to the agency. Most are for the 2019 and 2020 compliance years. 
US, Taiwan to resume formal trade discussions
 U.S. and Taiwanese officials are set to resume formal discussions on improving trade ties between the two countries as part of a long-dormant Trade and Investment Framework Agreement, or TIFA for short, according to a statement released by the American Institute in Taiwan.
Taiwan's Office of Trade Negotiations and the Office of the U.S. Trade Representative will be the primary participants, according to the AIT statement.
About a year ago Taiwan announced it would lift its ban on U.S. beef from cattle under 30 months old at slaughter as well as ditch its zero tolerance for ractopamine residues in pork. The moves were seen broadly as a goodwill gesture, and in October 50 U.S. Republican and Democratic Senators signed a letter to the Trump administration, pushing for talks to begin negotiations for a trade agreement with Taiwan.


Colorado overtime law signed; Oregon advocates look ahead
Colorado has become the latest state to require farms to pay overtime to their workers. Gov. Jared Polis signed the Agricultural Workers Rights bill into law on Friday.
In Oregon, farmworker advocates are looking ahead to their next session after they were unable to get an overtime bill across the finish line before today's scheduled legislative adjournment.
"I believe we have positioned ourselves to bring a bill back in the short session in 2022," Oregon state Rep. Andrea Salinas said in an email to Agri-Pulse.
In the waning days of the legislature, the Oregon bill was amended to phase in the overtime requirement and to authorize $100 million in wage subsidies.
Southeast Asia offers opportunity for U.S. dairy
Southeast Asia, with its "expanding population and rising middle class," represents the "biggest growth opportunity for U.S. dairy exporters, according to a new CoBank analysis, but U.S. dairy companies will need to invest in new production technology "to meet the product needs of an ethnically and economically diverse consumer base."
"With much of Southeast Asia lacking a refrigerated supply chain and consumable products frequently sold via outdoor vending machines, products containing dairy must be heat stable," says Tanner Ehmke, CoBank's lead dairy economist.
"Powdered ingredients must also be completely soluble so solids don't settle in the container over time. U.S. processors will need to ensure they are versatile enough to meet these needs to fully capitalize on opportunities in the Southeast Asia market."
The U.S. Dairy Export Council is well aware of the growing market potential in Southeast Asia. That's why the group opened up a U.S. Center for Dairy Excellence in Singapore last September. The facility is a hub for marketing and sales and education in Vietnam, the Philippines, Indonesia, Malaysia, Myanmar, Laos and Cambodia.
He said it: "The bottom line is this: I gave my word to support the infrastructure plan, and that's what I intend to do. … I fully stand behind it without reservation or hesitation." - President Joe Biden, in a statement this week walking back his threat not to sign a bipartisan infrastructure bill unless Congress also passes a Democratic reconciliation measure with additional spending.
Questions? Tips? Contact Philip Brasher at philip@agri-pulse.com